What is Google Analytics Certification Exam?
Google Analytics Certificate exam is one of the hardest to earn. It requires in-depth knowledge and understanding of beginner and advanced level digital analytics and Google Platform.
Google Analytics shows new users how to build an account, implement tracking code, and set up data filters. You will learn to guide the Google Analytics interface, reports, set up dashboards and shortcuts. In Google Analytics, you can see how to analyze primary Audience, Acquisition, Behavior reports, set up goals, and campaign tracking.
Continuous improvements by Google make it hard for individuals to keep up the pace. This Google Analytics Exam Answers E-Book, highly useful for beginner and advanced level, as it is regularly updated, knowledgeable study material to learn from to score 80% in the exam or above.
Also, you can choose the other digital marketing E-books if you are willing to take other digital certifications such as Google Ads, SEMRUSH Certification, Bing Certification, HubSpot Certification, YouTube Certification & Meta Certification.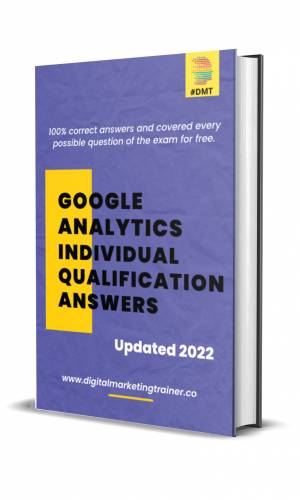 How do I get Google Analytics certification?
Once you start an Google Analytics exam, a 90-minute timer begins counting down. There is no other method to stop the timer till the exam finishes.

You need to score 80% or higher to pass; if you fail, you'll have to wait one day to take the reassessment.

Once you have passed the examination, you'll receive a unique GAIQ certificate and update your Google partners' profiles to reflect your certification status.
How To Apply Google Analytics Exam?
Frequently Asked Questions about Google Analytics Exam



Q: Is Google Analytics certification worth it?
A: Yes! The Google Analytics Individual Qualification certification is definitely worth the effort. You'll gain in-depth insight into Google Analytics, which will help you to understand your website data. Plus, your certification allows you to become a qualified web analyst for your company.
Q: Is the Google Analytics certification free?
A: Yes, the Google Analytics Individual qualification Examination is free of cost and you can download Google Analytics Certification Exam Answers pdf @ DMT.
Q: How much does the Google Analytics course cost?
A: If you want to learn complete Advanced Google Analytics Course from DMT. You can visit DMT course page.
Q: Is Google Analytics for beginners free?
A: Google Analytics for Beginners is free, and it is designed to cater to beginners. Beginners who want to understand Google Analytics can begin with the basics first. Once when you know the basics, you can proceed to advanced topics.
Q: Is Google Analytics difficult to learn?
A: Google Analytics is not easy to learn because it presents powerful insights about your website's visitors, as many beginners find it challenging and tricky, so people ignore it.
Q: Can i get on Google Analytics job?
A: The easy answer is no. It won't help hire you. The course itself gives a 360-degree understanding knowledge of how organizations utilize data.
Q: How much time does it take to be Google Analytics certified?
A: If you go through all the course content consecutively, the course will take 4-6 hours to complete, leaning on your level of understanding of the course content.
Q: Does Google Analytics certification expire?
A: Once you pass the exam, your GAIQ certification will be valid for 12 months.
Q: How much can you make with a Google Analytics certification?
A: The minimum salary for Google Analytics Certificate is $67,900. Over courses, which is gain in-demand skills that prepare you for an entry-level job.
Q: Who should do Google Analytics certification?
A: It is for everyone who wants to grow their business and keep the data record.
Q: Which Google analytics certification should I get?
A: There are plenty of certifications based on your interest; you can choose any one certificate and get it.
Q: Are Google certifications worth it in 2022?
A: Absolutely Yes
Q: Which Google certification is most in demand?
A:
1. Project management certifications
2. Business analyst certifications
3. Supply chain certifications
4. Marketing certifications
5. Skilled trade certifications
6. Human resources certifications
7. Sales certifications
8. Accounting certifications
9. Computer Network certification
10. Health care certification
Q: Are Google certifications paid?
A: Google certifications are entirely free.